Middle Fork of the Salmon River Rafting
Best Water Ever on the Middle Fork of the Salmon River
Kim . - idaho, usa | July 23, 2020
The Middle Fork of the Salmon river had clear water! Every rock is visible!
The rafting guides are incredible people! The Frank Church Wilderness area is only able to be experienced by boat! Western River and Row Adventures made it a fun adventure.
The food was WOW!! I love you all!

Related Trips
Idaho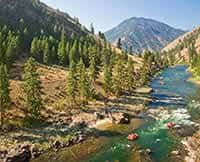 Middle Fork Salmon Rafting Trip
More than 100 whitewater rapids, natural hot springs, waterfalls and camping in gorgeous mountain meadows.