4-Day Grand Canyon Tour
Best Way to Experience the Grand Canyon in All It's Majesty
Kathleen . - AZ, USA | September 14, 2019
Sometimes the hotel a tour recommends can set the tone for a trip. Ours was fabulous. The attention to detail from the moment we left the hotel was above and beyond our expectations. I did a lot of research, asked tons of questions and watched all the videos. I could tell that this was going to be great.
The Bar 10 Ranch experience was a blast. Great people, the wagons were a great way to start our adventure. The staff were first class and very talented.
I was nervous about the helicopter ride (past experience was a little nerve wracking). I was placed up front. It was great!!!! Loved the maneuver into the canyon. Holy cow it was spectacular.
Once the river crew had us it was all just the most wonderful experience I have ever had. We had some older less nimble folks on out boats and we all were more than happy to help them out as was our great crew.
Instructions, camp set up and tear down and all the boat safety really puts you at ease for whats ahead.
Food- Did I mention I have never eaten so much good food in 4 days?! Best camping food ever and I didn't have to cook it.
Scenery was amazing in between rapids. I rode the front of the boat the entire way. So much fun. Loved out off boat hikes to Pumpkin Springs, Travertine Grotto and others. The Jet boat ride back to Pearce Ferry was fun too.
Just can't say enough. Did I mention the amazing stars at night? It is hard to imagine the beauty of the dark night blown up by stars like you have rarely seen.

Related Trips
Grand Canyon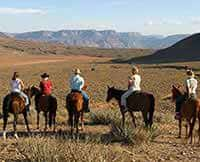 Grand Canyon 4 Day Tour
Combine your Grand Canyon rafting adventure with a day and night at a working cattle ranch.