Cataract Canyon 2-Day Express
The Best Way to Unplug!
Bill S. - Texas, United States | June 10, 2023
My wife signed us up for the cataract canyon river rafting trip. Neither of us have ever rafted before. My wife had never even camped before. Work has been stressful for both of us, so I was looking forward to a break. The trip was amazing. The guides were experts. Even though the rapids were intense, the guides kept us safe. It is hard to describe the rush of rafting on category 5 rapids. The scenery was incredible. The guides were great. The food was great. The other riders were great. I always heard people say that river rafting was their favorite vacation ever. They were right! Highly recommended.

Related Trips
Utah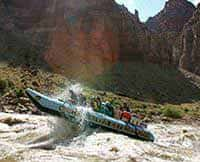 Cataract Canyon Express
Raft the 100 miles of Cataract Canyon in just 2 Days!