3-Day Grand Canyon River Trip
Beyond Amazing Rafting in Grand Canyon
Mike . - IL, USA | July 14, 2019
Very impressive from a logistics perspective, every handoff between every mode of transportation was smooth, and well planned/executed.
Our guides (RD, Derrek, Kiefer, and Wiley) love for, and knowledge of, the Grand Canyon is obvious and contagious.
Super confident, and competent, they went out of their way to make everybody feel welcome.
The food was far beyond pre-trip expectations, and I could not have been more pleased with the first in a lifetime experience to share with my sons.
It was their first time seeing the Milky Way and my first time seeing it in 25 years, really an amazing incredible trip!!
We're still laughing about "Suck Rubber"!

Related Trips
Grand Canyon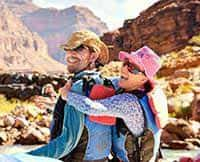 3 Day Grand Canyon River Trip
Raft 100 miles on the Colorado River through Grand Canyon.