6-7 Day Grand Canyon Vacation
My Adventure Begins
Scott C. - Georgia, USA | August 29, 2023
Warning, This might be a bit long but I want to take you on this journey with me, so here we go...

So my adventure begins.
Well, my flight was leaving Atlanta at 8 AM on Wednesday the 16th. I thought about taking the Groome Shuttle but because I would have to get up at 3 AM. to get to the airport by sometime around 5 AM I decided to drive from Columbus and use Park N' Fly That way I would have the car when I returned. Then I decided that instead of a hotel I would just sleep in the airport so all I had to do was get on my flight. Getting through TSA was no problem and I arrived at my gate to get some sleep before I had to leave.
It was absolutely freezing in this part of the airport and I was dressed for summer. Not much sleep to be had there. Then I found out they changed my departure gate. I decided to move to the new gate and this part of the airport was much warmer. The only thing was the construction going on made too much noise to sleep. So I was already tired by the time I got onto the plane.
Up, up, and away to my 3-hour layover at DIA. I was tired but I ate and relaxed before my connecting flight. My flight was on time and I arrived safely at the airport at around 4 PM. I caught a cab to the Las Vegas Marriott and checked into my room. I walked around the casino a bit and had some dinner. Because I had to be in the lobby at 4 AM and did not have much time for anything else.
I woke up at 3 am and was in the lobby at 4 am. I was served a bagged breakfast and then got onto a big Greyhound-type bus that would drive all of us to the Boulder Air Terminal for the 1.5-hour flight to Marble Canyon, Arizona (our starting point). From the airport, I was loaded onto several vans with the people I would spend the next 7 days with. A short drive and we were at the Colorado River meeting the crew and receiving our raft assignments. After a short orientation we were given the opportunity to chicken out and cancel our adventure (they explained the dangers involved in the trip). I had to sign a release of liability form. They gave each of us a certified life jacket with a number that corresponded with a large waterproof bag and a smaller waterproof bag for daily use. I was number 14
My seven-day Grand Canyon Rafting Trip officially begins.
We all climbed onto the rafts, chose where we wanted to sit, and began our adventure. We floated through several rapids and then stopped for lunch and a potty break. It was explained to us that we were not allowed to pee anywhere on the shore, so we had to climb into the moving river from the shore and learn the pee-swish technique. Did I mention that the river is around 60 degrees?! We had lunch on the 1st day and then back on the raft for more rapids and breathtaking scenery.
After rafting through several rapids we covered around 30 miles or so on the 1st day. Our next stop was for dinner and our 1st-night camping under the stars. Needless to say, by this point I was absolutely exhausted. We were then told that each of us would receive a tent, camping chair, and a cot to sleep on. There was a sleeping bag and a tarp in our big dry bag with our other belongings. Our day bags would contain anything we needed between our evening stops.
Each day the crew would prepare our meals and each day we were more amazed at what we were served. The 1st night I slept on my cot without setting up a tent but it rained a little bit and I had to cover up with my tarp to stay dry. The wind blew and it kicked up the sand most of the night. It didn't bother me. I just covered myself like a mummy and slept right on thru.

Related Trips
Grand Canyon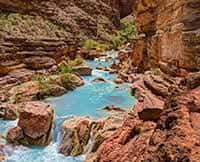 Grand Canyon 6-7 Day Vacation
A unforgettable journey of 188 miles from Lake Powell to Lava Falls.
Grand Canyon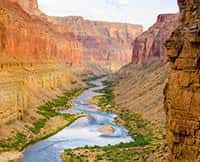 Grand Canyon Rafting Trips
Experience a 3 to 7 day expedition filled with whitewater excitement, spectacular waterfalls waterfalls and starry nights.