Moab Vacation Package
Bucket List Trip! - Southwest Sampler Moab
Lu T. - CA, USA | July 22, 2019
Moab is a breathtaking town surrounded by red rock monuments, arches and formations!
Definitely a place to explore and great for families. The Arches national park was unbelievable. I took my 14-year-old son and was an exciting vacation for him. The Hummer Safari ride was scary but exhilarating the Arches were spectacular! Hard to believe. And the rafting trip was a blast! It was a full moon and we all slept on cots under the stars. This was a trip we will never forget!

Related Trips
Utah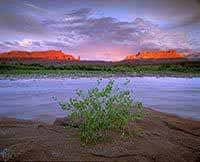 Moab Utah Southwest Sampler
Combine an overnight raft trip with an off-road Hummer Safari, and Arches National Park.