3-Day Grand Canyon River Trip
Bucket List Vacation If There Ver Was One
Heather B. - NJ, US | August 2, 2023
Our guides - Noah, Steph, Meghan, and Lucky were great! We had a wonderful group of people on our raft and awesome staff (Noah and Steph). Noah was a wealth of information all along our trip and Steph handled the raft incredibly. We had so much fun while on the river, at lunch stops, on hikes, and in camp. All the staff were incredible making for such a memorable trip. Keeping us all safe, fed, and having fun all at the same time takes a lot of skill and patience. Thank you for making this an unforgettable experience. Would love to join you again on the river after getting my "feet wet" with a 3-day trip I'd love to do a longer trip next time. THANK YOU.

Related Trips
Grand Canyon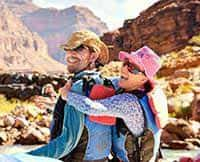 3 Day Grand Canyon River Trip
Raft 100 miles on the Colorado River through Grand Canyon.
Grand Canyon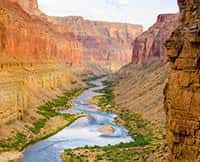 Grand Canyon Rafting Trips
Experience a 3 to 7 day expedition filled with whitewater excitement, spectacular waterfalls waterfalls and starry nights.