Cataract Canyon 4-Day Trip
Cataract Canyon Classic 4 Day Trip Was Very Good
David . - NM, USA | July 30, 2019
Your company and the guides had a very well organized trip with a fun itinerary, good food and good equipment. They were very good at explaining the sights as we went along. The short day hikes were fun. The whole Cataract Canyon classic 4 day trip was very professionally done, and I would recommend your company to others.

Related Trips
Utah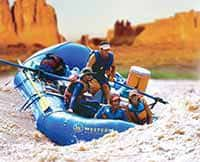 Cataract Canyon 4 Day Trip
Experience 4 Days through the heart of Canyonlands National Park.