Cataract Canyon 4-Day Trip
Cataract Canyon Was Fabulous
Janine . - FL, USA | July 13, 2019
Bob and I had a wonderful time on this Cataract Canyon river trip. We are 85/75 years young respectively and while we've done lots of rafting in the east, but we wanted our last trip (due to our ages) to be in the west. This 4 day/3 night trip was perfect for us. We felt safe yet experienced both the calm and rapids of the river. We met lots of wonderful people, and our 4 crew members were interesting, knowledgeable and great cooks. It was fun sleeping in the out doors, eating by the campfire, sharing stories and tales and enjoying the wonderful scenery all around us. I think the meals prepared for us were the best ever. We highly recommend anyone contemplating this trip to take the plunge, literally and figuratively. The Colorado River was VERY cold but we went in to wash, swim and cool off from the sun beating down on us. Be sure to take lots of sunscreen and a hat. While Bob was the oldest person on this trip, there were folks of all ages. The young children (11-12 yrs) and many teenagers actually made the trip even more fun seeing them ride the waves on the front of our J-rig as we used to when we were younger. It was a memorable experience, one we highly recommend.

Related Trips
Utah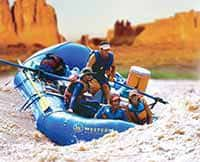 Cataract Canyon 4 Day Trip
Experience 4 Days through the heart of Canyonlands National Park.