4-Day Grand Canyon Tour
​great People, Great Guides, Colorado River Trip
Steve . - NC, USA | July 5, 2019
My wife and I enjoyed all parts of the trip. Ranch, guides, views...can't say enough good stuff. Truly, lost for words. The experience is something I will cherish.
We would certainly do it again.
Big Thank you to the entire team. Wonderful trip!

Related Trips
Grand Canyon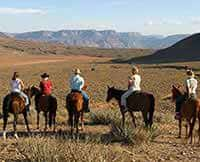 Grand Canyon 4 Day Tour
Combine your Grand Canyon rafting adventure with a day and night at a working cattle ranch.