Western's ​COVID-19 Mitigation & Operations Plan is in effect.
Crazy Grand Canyon Experience
Teresa . - FL, USA | August 29, 2019
This was an incredible trip in the Grand Canyon. Sleeping outdoors under a beautiful sky each night. The rapids and white water. The hikes, meals to die for, poo with a view and the best guides!! Highly recommended. Be sure you are sure footed and bring your good attitude, you won't be disappointed.
6-7 Day Grand Canyon Vacation

Related Trips
Grand Canyon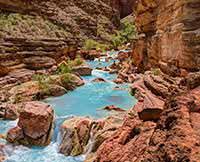 Grand Canyon 6-7 Day Vacation
A unforgettable journey of 188 miles from Lake Powell to Lava Falls.