Desolation Canyon 5-Day Trip
Desolation Canyon Rafting- Awesome!
Sher . - NM, USA | September 14, 2019
Best adventure I've had in a very long time! I'll be back for another trip w/Western Rivers as soon as I can!
Great aspects of trip:
-adventure started w/ wonderful flight -orientation to Green River/Desolation Canyon - great pilot w/good historical & ecological grounding, beautiful & comfortable flight (nice plane!)
-gorgeous, intriguing & humbling landscape
-river-river river - riffle-runs, rapids, eddies, slow & easy sections, swimming a class 3 rapid! kayaking! laughing!
-very cool guides -the best! knowledgeable, fun, smart, patient!,very professional, really good people, would trust them w/my life anytime!
-really great mix of comrades all with good heart! - smaller # of folks & no little kids on this trip (yeah!) - enjoyed the others immensely & made some very good friends (all were fun, good sports & no whiners!)
-really appreciate salads at every dinner & lots of fruit & vegies available at meals & for snacks; desserts (especially those cooked in cast iron by Stu) looked awesome (I cant eat b/c of dietary issues) & were much appreciated by folks - Stu & Lauren were fabulous cooks & gracious hosts
-was really grateful for & appreciated lots the couple of exploratory hikes we took to see historical & ancient sites - the Desolation-Gray Canyons section of the Green is surrounded by amazing geology-ecology, history, & pre-history - it was wonderful see & be in the depths of it!
A few recommendations for changes:
-toss the hellatious cots & get lighter weight/ more comfortable cots that are safer, easier to put together, & that one can really sleep on!
-consider changing out the heavy meat components at in particular for dinner (especially the big steaks - lots of meat was tossed on this trip); suggest substituting w/some stir fry dishes of rice or noodles w/vegies, etc. & meat chunks to add if desired.
-keep working to provide a good cross-section of hikes/explorations off-river (would like to have had more hiking to explore geology & archaeology/cultural sites) - may need to get on the river earlier/allocate time or plan more specifically for certain camp sites to facilitate getting hikes in (realize planning for specific camp sites, getting folks rolling, & folks w/varying preferences/abilities can all be challenging to put together! but options are good!)

Related Trips
Utah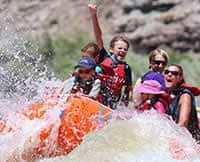 Desolation Canyon
Astounding scenery, over 60 rapids, and great beaches!