6-7 Day Grand Canyon Vacation
Epic Grand Canyon Adventure
Alena . - NH, USA | August 29, 2019
When I first mentioned the idea of seeing the Grand Canyon to my husband, he was all for it. Then I mentioned rafting the Grand Canyon and at first he was unsure. His comment was "you know, most people see the canyon from the top", I told him we are not most people.
We were both nervous and excited for this trip and as the departure day got closer and we continued to get emails and put our gear together we got more and more excited.
Everything about this trip went smooth. The flights, the guides, the food, the rapids everything was exactly as they described and what we expected. The friends we made, the memories, will remain forever. I would and do recommend to everyone I talk to, to do this trip. We had 26 people on two boats and the age range was from 20's to 80's and everyone had a great time. It was as hard or as easy as you wanted it to be.
You will learn a lot about the Canyon and the people of the Canyon, but you will also learn about the people you are traveling with, both the guides and the other adventure seekers. The quiet time spent in the Canyon will also teach you a lot about yourself.
Do it!

Related Trips
Grand Canyon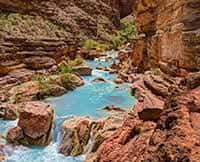 Grand Canyon 6-7 Day Vacation
A unforgettable journey of 188 miles from Lake Powell to Lava Falls.