4-Day Grand Canyon Tour
Epic 4 Day Ranch and Grand Canyon Trip
Elene A. - Florida, Usa | September 3, 2022
Well, I have to begin with the fact that everyone's idea of what a five-star trip is will be different. I rated this five stars because the staff absolutely did their best to offer a top-notch experience. And, let's keep in mind that this is an outdoor adventure and the elements are unpredictable, each person's physical abilities vary and our expectations will vary as well.
The dude ranch was fun. Great meals, sleeping in a Conestoga wagon was a sweet experience, scenic, and very comfortable…fun that we could try the skeet shooting, horseback riding (and ATV riding is optional for an additional fee - people enjoyed it, I declined because the terrain was dry and I was concerned about dust/dirt - just wear masks ). They offered fun outdoor activities like tennis courts, etc…or you could just relax.
I have to say that this was an outdoor adventure that challenged me to some degree on some levels in terms of being comfortable coexisting with a group of people who are new to you on this great adventure. One must be comfortable relieving themselves in a group in the river in front of each other, lol, and sharing one outdoor potty or two, and being refreshed in the brown water of the Colorado river, climbing up moderately rocky cliffs with the assistance of knotted ropes was actually easy enough, but a new experience and I am grateful for that experience.
I have been sharing my pics and experiences with friends and realize this was a unique experience that I am actually bragging about. There are no cabana boys to help you set up or break down your tents or cots, no helpers to carry your duffle bags (so pack light), no fancy porta potties…it's the Wild West and that was what made this unique.
3 days camping in Grand Canyon was just the right amount of time for me!! Loved the few rapids on the raft, the view of the canyon from the river, the climb up to the waterfalls and the refreshing dips in that clean water, the friendships made, the laughs shared, and the absolutely delicious daily 3 meals day prepped and served by the skilled staff, the experience of sleeping in a tent, and the one night outdoors on cots under the beautiful starry night…terrific experience I could only have on a trip like this.

Related Trips
Grand Canyon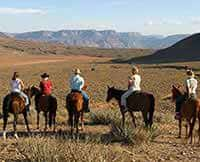 Grand Canyon 4 Day Tour
Combine your Grand Canyon rafting adventure with a day and night at a working cattle ranch.
Grand Canyon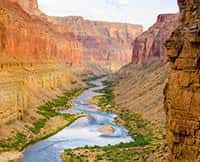 Grand Canyon Rafting Trips
Experience a 3 to 7 day expedition filled with whitewater excitement, spectacular waterfalls waterfalls and starry nights.