Desolation Canyon 5-Day Trip
Epic Trip! - Desolation Canyon Rafting
Sarah . - Georgia, United States | July 4, 2020
Our 5-day Desolation Canyon trip exceeded our expectations in every way.
The guides were phenomenal! They were great with our kids, fun to be around, kind, helpful, always available and willing to do anything to make our trip exceptional.
Eleven members of our family took the trip together. After the trip, we were discussing our favorite parts and every single one of us listed the guides as our favorite part of the trip. We always felt safe, cared for, and never bored!

Related Trips
Utah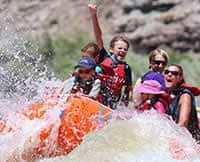 Desolation Canyon
Astounding scenery, over 60 rapids, and great beaches!