6-7 Day Grand Canyon Vacation
Epic- Trip of a Lifetime From an Otter's Viewpoint
Janell S. - GA, United States | September 24, 2023
Stop reading all the reviews and just get yourself on the reservation list! When is the last time you've done something for the first time???
I booked the 6 nights/7 day trip down the Colorado River through the Grand Canyon. I'd never camped a day in my life, never wanted to to be honest. I'm an introvert and enjoy reading on vacation. I took this trip solo to prove to myself I could do hard things and excel while out of my comfort zone. Mind you, I had A LOT of help on this trip from my wonderful raft mates and the exceptional crew consisting of Wiley, McKay, Bill, and Mark.
There is not 1 aspect of our trip I would complain about. My raft mates renamed me Otter bc of my ability to move swiftly and efficiently on the raft (or so I like to think). We ate like kings. I am ready to go again today! Money well spent.
Western River Expeditions organizes and explains every detail you need so no worries about that. My #1 trip tip would be 'Just because you're allowed to bring 20lbs in your duffle doesn't mean you'll need/use all 20lbs of those items, leave 1/2 behind.'. You should stop reading and go book a spot on the 6-night trip…….

Related Trips
Grand Canyon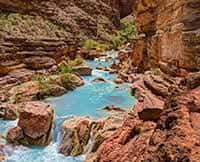 Grand Canyon 6-7 Day Vacation
A unforgettable journey of 188 miles from Lake Powell to Lava Falls.
Grand Canyon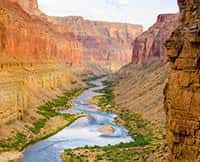 Grand Canyon Rafting Trips
Experience a 3 to 7 day expedition filled with whitewater excitement, spectacular waterfalls waterfalls and starry nights.