3-Day Grand Canyon River Trip
Nothing to Compare With Rafting Down the Colorado River
Mark B. - MA, USA | May 15, 2021
There is really nothing to compare with rafting down the Colorado river at the bottom of the Grand Canyon! We are a married couple, 66 and 71 years of age, and took Western River Expeditions' three-day Grand Canyon excursion (May 4-6, 2021) and were absolutely thrilled. We are going back!
Before the trip itself, our experience with the staff at WRE was always pleasant, positive, and helpful. We were never on hold for long; they always had an answer, and it was almost always the answer we hoped for! They even accommodated us in allowing me to bring my semi-professional grade photography equipment, including a tripod. (We do recommend coordinating this in advance, though.)
Staging at the Las Vegas Marriott hotel, the morning of embarkation, was efficient, orderly, and pleasant. That pattern continued all the way through the bus trip to the Boulder City airport, the flight to the Bar 10 Ranch, and finally the helicopter flight down to the bottom of the Canyon. The crews at each point deftly and cheerfully sorted us into groups, giving us clear instructions, ready to answer any questions.
Once assembled as a group in the Canyon, our four guides got us organized onto our two J-Rigs, helping us get everything on board (including ourselves) safely and quickly, and before we knew it, we were ON THE RIVER! The J-Rigs are great. They make for a very safe ride, and one can opt to ride in front for thrills, or further back on the rig for a more stable seat. And the River: there is no experience like it. The scenery, of course, is epic, and it is continually changing.
We can't speak highly enough of the guides: Wiley, Marc, Mickell, and Justin. Very experienced and knowledgeable, personable and cheerful at all times. Looking back, I can see that they were always unobtrusively keeping things moving smoothly and safely. They do something difficult but do it so well and smoothly that it looks easy; one is unaware of the effort involved.
WRE definitely understands the impact that food has on the experience. There was an unending supply of water and lemonade, both onboard and on land in the morning and evening. Hot coffee was ready first thing in the morning. Snacks and fresh fruit were available throughout the day, just for the taking. The food at the main meals (breakfast, lunch, and dinner) was excellent and plentiful. Steaks for dinner, anyone?
Takeout at the conclusion was handled just as smoothly as put in. We soon found ourselves on board a jet boat for the last 45 minutes, transferring then to a bus ride over 6 miles of unpaved road, and finally to the bus that took us back to our starting point in Las Vegas.
We were 27 passengers in addition to the four guides, and all the passengers were fun to spend time with. It seems that this sort of adventure self-selects for a certain outgoing friendly personality type and brings out the best in people.
As it happened, I lost my wedding ring at some point on the trip, and we figured it was gone forever. However, it was distinctive and one of the guides happened to find it after we debarked, recognized it, turned it into the office, reached us by email the next day, and it's in the mail to us now.
There was no aspect of the adventure that failed to meet or exceed our expectations. We are definitely booking with WRE again. I have already booked for the 7-day photography workshop in 2022 and we will be taking the 7-day trip together in 2023; we are already on the waiting list to get notified as soon as the dates for 2023 are known.

Related Trips
Grand Canyon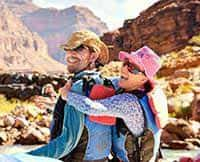 3 Day Grand Canyon River Trip
Raft 100 miles on the Colorado River through Grand Canyon.
Grand Canyon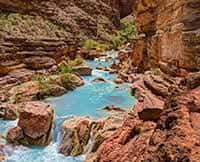 Grand Canyon 6-7 Day Vacation
A unforgettable journey of 188 miles from Lake Powell to Lava Falls.
Grand Canyon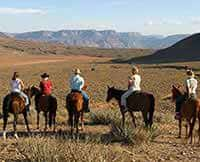 Grand Canyon 4 Day Tour
Combine your Grand Canyon rafting adventure with a day and night at a working cattle ranch.