Western's ​COVID-19 Mitigation & Operations Plan is in effect.
Rogue River Rafting – Everything I Expected
Robert . - WA, USA | August 17, 2019
This Rogue River Rafting Trip was exciting white water, had great guides, and wonderful family fun. I did the Rogue 20 years ago and this time brought my whole family. The entire trip was excellent from beginning to end. The time on the water was fantastic. The guides were great with my younger grandchildren. The lodges were excellent with welcoming staff and good food.
Rogue River Lodge to Lodge Rafting Trip

Related Trips
Oregon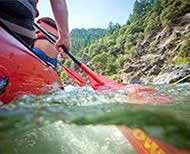 Rogue River Lodge to Lodge Trip
One of the most unique rafting vacations in the world. Astounding wildlife, scenery and historic river lodges each night.