6-7 Day Grand Canyon Vacation
Six Nights, Seven Days Was Over Much Too Soon
Christine S. - Michigan, United States | September 25, 2021
After talking about a rafting trip in the Grand Canyon many years ago, we finally booked our trip in our mid-60s. We are so thankful that we did!
Western River had outstanding communications and preparation tips prior to our trip. I went on the trip feeling some trepidation about the big rapids after watching videos. However, trip leader Ben, and the rest of the crew - Daniel, Paco, and Reese were amazing. We felt 100% safe in their expert hands, and their knowledge of the river, the geology, and the side canyons were superb.
The food was great. The scenery on the river and in the side canyon walks was indescribably beautiful. Six nights, seven days was over much too soon, and I would love to do this trip again. If anyone is considering a trip like this, book it now with Western River.

Related Trips
Grand Canyon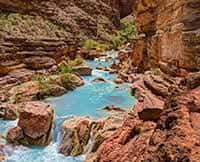 Grand Canyon 6-7 Day Vacation
A unforgettable journey of 188 miles from Lake Powell to Lava Falls.
Grand Canyon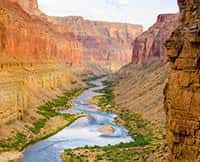 Grand Canyon Rafting Trips
Experience a 3 to 7 day expedition filled with whitewater excitement, spectacular waterfalls waterfalls and starry nights.