3-Day Grand Canyon River Trip
Rafting the Grand Canyon Exceeded My Wildest Expectations!!
De Anna P. - Indiana, Usa | October 3, 2020
I am just getting home from one of the more memorable and adventurous trips with my daughter Allie and 30 old and new friends.
We few to Las Vegas, were bused to an airport for a flight on a small plane to the middle of the Mojave desert where we bused up to a small guest ranch, got on a helicopter and was flown down to the Colorado River in the Grand Canyon. There, we met our guides and got onto the river rafts. For three days and two nights we went through many rapids, laughed, got very wet in 50 degree water, laughed, ate wonderful food, slept on a cot under the stars and Milky Way, made new friends, saw waterfalls, laughed, rode a jet boat out to skim over the last 10 miles of water that was two feet deep!!
And oh, I saw how majestic and wonderful the Grand Canyon is!!
Western River Expeditions is a highly recommend.

Related Trips
Grand Canyon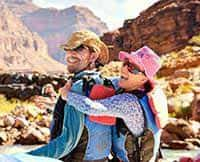 3 Day Grand Canyon River Trip
Raft 100 miles on the Colorado River through Grand Canyon.
Grand Canyon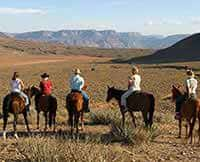 Grand Canyon 4 Day Tour
Combine your Grand Canyon rafting adventure with a day and night at a working cattle ranch.
Grand Canyon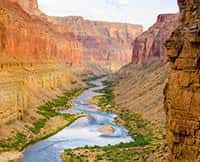 Grand Canyon Rafting Trips
Experience a 3 to 7 day expedition filled with whitewater excitement, spectacular waterfalls waterfalls and starry nights.