6-7 Day Grand Canyon Vacation
Western River Expeditions Is an Excellent Company
Ken N. - MA, USA | September 23, 2017
If you are scrolling through these reviews, you will see a recurring theme of breathtaking natural scenery, white-knuckle excitement on the rapids, and the formation of great camaraderie and friendships among travelers and crew. I certainly echo these sentiments as they are all true. Having been to the canyon rim a couple times I can say with certainty that you will never experience the canyon in a more impactful way than from river level. I would add that completely disconnecting from "the grid" for a week gives you a sense of peace that cannot be imagined.
So undoubtedly I would do this trip again in a heartbeat. But what would make me choose Western River Expeditions (WRE) again? In a word...excellence. What that means to me is that all aspects of the service they offer are thought through and addressed in the best way possible.
They have the best equipment, which I can say because we saw all the competition on our way down. The motor-driven J-rigs put all other river craft to shame...I could sense raft-envy as we passed them by ;-) Some might say that it's not the same experience without holding an oar, but I loved the freedom of immersing myself in the rapids unencumbered and secure in knowing our skipper (Parker) would steer the boat where it has to go.
They have the best people. Our crew of Parker, Johnny, Jace and Mickey were professional in their manner, knowledgeable about the river and canyon, experienced (30 to 100+ trips each so far), and downright friendly! Most importantly to me they were well-trained. WRE obviously has the whole trip mapped out in detail and they drill into the crew what needs to happen at every step. From reading other reviews I can sense that no matter which crew you get (WRE has 16 boats/crews), you will have the same level of trained excellence. I don't know where they found all these young people, but I am thankful to know America is still producing great kids like them (some of them are parents already, but to me they are kids ;-)
They have the best plan. From the time we left the Marriott in Vegas to the time we returned there 6 days later, every step was well choreographed. I sense that it has evolved over time to the perfection that it is today. One very special touch for me was the finale... the helicopter ride taking us out of the canyon to the Bar-10 ranch. A short thrilling ride, followed by a few hours to unwind in a quiet peaceful oasis in the Arizona desert. A nice hot shower, a browse through the gift shop, and time to sit on the shaded patio with a warm breeze blowing, soaking in the desert sights one last time.

Related Trips
Grand Canyon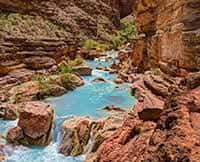 Grand Canyon 6-7 Day Vacation
A unforgettable journey of 188 miles from Lake Powell to Lava Falls.