Hells Canyon Rafting Trip
Hells Canyon Rafting Was an Excellent Experience
Bill . - LA, USA | July 24, 2019
Our guides were very nice, knowledgeable, and hard working. No question was left un-answered. Food was awesome. Scenery exceeded expectation. Attention to detail and Safety was always taken care of.

Related Trips
Idaho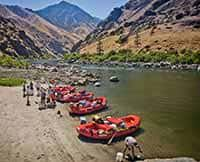 Hells Canyon Rafting Trip
The deepest river gorge in North America and some of the largest whitewater rapids in the Pacific Northwest.