Desolation Canyon 5-Day Trip
Excellent Desolation Canyon Trip Great Scenery Great Guides.
Rau . - OR, USA | July 5, 2019
Great for the scenery. Great for kids. Our guides made our trip even more enjoyable. Met some really fun people. I would recommend this trip for people with kids and first time rafters. You will be hooked.

Related Trips
Utah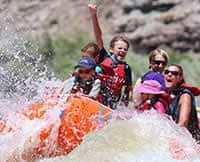 Desolation Canyon
Astounding scenery, over 60 rapids, and great beaches!