Hells Canyon Rafting Trip
Excellent Vaca in Hells Canyon With Loads of Excitement and Nature
Kelle . - TX, USA | July 17, 2019
I would recommend this trip, first timer and was apprehensive of it. I felt totally safe with our guides, great food and totally supportive staff(and fun!).
I felt all our needs were taken care of in every way.
Many cherished memories and highly recommend!

Related Trips
Idaho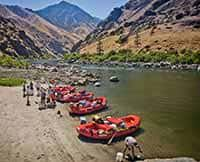 Hells Canyon Rafting Trip
The deepest river gorge in North America and some of the largest whitewater rapids in the Pacific Northwest.