4-Day Grand Canyon Tour
Exciting Cataract Canyon Adventure With the Best Guides on the River
Karen . - UT, USA | July 10, 2019
What an amazing experience. Excellent river company who excel at providing a seamless adventure by attending to all the details with precision and thoughtfulness. Every person throughout the process from planning, organising, packing, transportation and guiding were helpful and easy to talk to.
I especially want to give a big shout out to our guides Alora, Mitch, Jacob and Derrick. They worked well as a team, modeling how to become part of the dynamic community of rafters. We went from being strangers to family in 4 short days. Our guides alway had a great attitude and a smile. They worked tirelessly each day to make sure we were comfortable, well fed and safe each and every day. Thank you for helping to create a wonderful memory.
Sincerely,
Karen F

Related Trips
Grand Canyon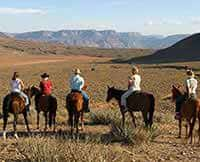 Grand Canyon 4 Day Tour
Combine your Grand Canyon rafting adventure with a day and night at a working cattle ranch.