Cataract Canyon 2-Day Express
Exhilarating – Cataract Canyon
Lori . - TX, USA | July 3, 2019
We had an amazing time. I wouldn't change a thing. Rafting the rapids was a WOW experience and truly wonderful. It was an experience of a lifetime, and the guides and group were the best. Fun and professional.

Related Trips
Utah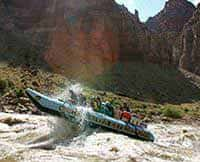 Cataract Canyon Express
Raft the 100 miles of Cataract Canyon in just 2 Days!