6-7 Day Grand Canyon Vacation
An Experience of a Lifetime
Brian F. - California, USA | August 27, 2022
Truth be told after the first 3 or 4 hours I thought this will get boring after a few days, just rocks and rapids. But that was not the case at all. The rapids got bigger, the canyon got deeper and the rocks got more colorful.
Our guides told of colorful characters who had risked their lives before us to conquer the canyon. They literally took us back 2 billion years in time as we descended deeper and deeper. We settled into a routine, beautiful sunrises, adrenaline-filled white(red) water, fascinating geology, spectacular sunsets, and peaceful cots under a blanket of millions of stars. By the end, after 188 miles, as the helicopter descended the canyon to pick us up we were not bored at all. We actually left thinking about returning to see what other secrets the canyon was hiding. A special thanks to our guides for the trip, Ronnie, Dan, Paco, and Enzo. Their river running skills were flawless and their knowledge of the canyon really bought the history to life. Thank you Western Rivers for putting together such a well-run experience:

Related Trips
Grand Canyon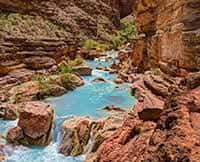 Grand Canyon 6-7 Day Vacation
A unforgettable journey of 188 miles from Lake Powell to Lava Falls.
Grand Canyon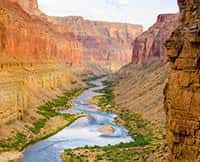 Grand Canyon Rafting Trips
Experience a 3 to 7 day expedition filled with whitewater excitement, spectacular waterfalls waterfalls and starry nights.