Rogue River Lodge to Lodge Rafting Trip
Experience of a Lifetime - Rafting the Rogue River
Becky . - FL, US | June 27, 2020
This Rogue River adventure truly was a trip of a lifetime. It had been on my bucket list for probably 20 years and finally the opportunity came that allowed me to do it.
From the first telephone conversation with Bonnie and Lori to the champagne toast at the end of the trip by Tom, team leader, nothing could have been better but the weather.
Lori was helpful in choosing the right trip for a 73 year old and her friend with a lodge to lodge trip instead of a camp out. She was always available to answer any question I had and there were several.
Tom, Dre, Tommy and Nichole were the most attentive, knowledgeable and skilled guides anyone could ask for. Their attention to detail was beyond compare and always with a smile.
The lodges were each very comfortable and the meals were excellent and service great.
We met 6 of the best co-rafters from a father-daughter duo celebrating her high school graduation to 2 other husband-wife couples.
By the last night sitting around a campfire all talking about the week we had become friends that will not be forgotten.

Related Trips
Oregon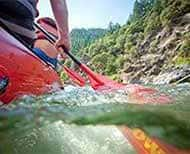 Rogue River Lodge to Lodge Trip
One of the most unique rafting vacations in the world. Astounding wildlife, scenery and historic river lodges each night.