4-Day Grand Canyon Tour
Experiencing Shared Moments Will Last Forever
Robin . - MN, USA | July 14, 2019
In today's world of capturing moments and posting for the world to see, there's something special to experiencing what you'll never be able to explain, no matter how many pictures you post. Because, even if a picture is worth a 1000 words, experiencing the moment is worth a 1000 photos. And it gets better, because when you share that moment with friends, family or perfect strangers, the memories will last a lifetime. So in today's social media age, to put down the phone (that won't have reception anyways) and just experience the moments you spend today you will create memories that will forge deep relationships. And when it's all said and done, how much would you spend to make life long memories?

Related Trips
Grand Canyon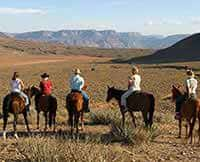 Grand Canyon 4 Day Tour
Combine your Grand Canyon rafting adventure with a day and night at a working cattle ranch.