Western's ​COVID-19 Mitigation & Operations Plan is in effect.
2-day Express River Trip on the Colorado River - Moab, Utah
Ryan D. - Utah, USA | June 26, 2020
Such a great rafting trip. Mitch and Nick were great guides and took care of everything.
I would definitely take this rafting trip again.
Cataract Canyon 2-Day Express

Related Trips
Utah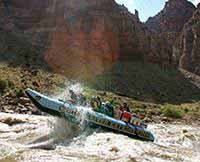 Cataract Canyon Express
Raft the 100 miles of Cataract Canyon in just 2 Days!
Utah
Cataract Canyon 4 Day Trip
Experience 4 Days through the heart of Canyonlands National Park.