Western's ​COVID-19 Mitigation & Operations Plan is in effect.
Fabulous! – Desolation Canyon Rafting
Tom . - UT, USA | August 15, 2019
Lauren and Stu were the best guides ever!!! The food was great. Western River takes care of all the details, including providing plenty for bug spray that was needed! It was a real fun time. The passengers bonded well. I highly recommend this Desolation Canyon Rafting trip.
Desolation Canyon 5-Day Trip

Related Trips
Utah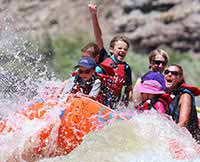 Desolation Canyon
Astounding scenery, over 60 rapids, and great beaches!