3-Day Grand Canyon River Trip
Family Experience – Grand Canyon 3 Day Rafting
Gail . - CT, USA | August 28, 2019
it was an experience of a lifetime. We used this trip as a family experience but it evolved into an experience of a lifetime. The clockwork organization of the trip and the expertise guidance provided was amazing. There was humor, teachings, life stories and the true love for a job that brought the trip together. Not a minute was wasted. I have recommended the experience to many adventurers. God bless Western River Expeditions and their amazing staff that made our trip a forever memory. Love and hugs from Connecticut.

Related Trips
Grand Canyon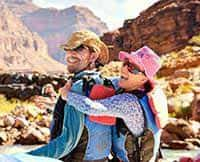 3 Day Grand Canyon River Trip
Raft 100 miles on the Colorado River through Grand Canyon.