4-Day Grand Canyon Tour
First-class River Rafting All the Way
Justine U. - CALIFORNIA, United States | August 2, 2023
Not going to lie, I was a little nervous about the trip. So much adventure for someone who is only moderately adventurous and doesn't go a day without makeup or a shower. To top it off, I hurt my knee the week before, so I wasn't 100%. A small plane, horse riding, shooting guns, a helicopter ride, white water rapids, and camping in 115+ degree heat, were a lot of firsts for my family. With that, I knew it was going to be a trip of a lifetime and something I wanted my boys (10 & 14) to experience. The Bar 10 Ranch was a fun overnight and the covered wagons were great. These guys did a great job of providing a little taste of ranch life and a fun evening show - all so talented.
The boat crew (Evan, Alex, and GJ) were top-notch, and genuinely lovely people with lots of stories and information to share, and worked so hard in providing a first-class experience and wonderful meals. The logistics of pulling this together is mind-boggling, but the crew made it seem effortless and everything ran very smoothly - they are true professionals and I felt safe and taken care of. The scenery is spectacular (needless to say), and there are lots of stops along with a way to enjoy the surroundings and cool off. The rapids on this trip aren't so big that you have to hold on for your life, but big enough to enjoy a little thrill of white water and to get wet/cool off in the extreme heat.
The heat was a little bit of a concern for my husband prior to the trip, however, there were so many opportunities to get wet that it wasn't an issue. I think the toilet is something that has been covered a lot in these reviews and it really isn't a big deal. Peeing in the river is quite freeing, and the potty set-up for #2 is quite adequate. All in all, this is a very special trip, and I'm not sure how I will top it. I would highly recommend it to anyone.

Related Trips
Grand Canyon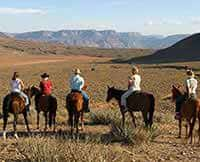 Grand Canyon 4 Day Tour
Combine your Grand Canyon rafting adventure with a day and night at a working cattle ranch.
Grand Canyon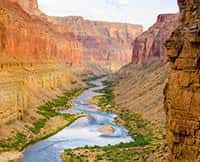 Grand Canyon Rafting Trips
Experience a 3 to 7 day expedition filled with whitewater excitement, spectacular waterfalls waterfalls and starry nights.