Cataract Canyon 4-Day Trip
Fun and Thrilling – Cataract Canyon 4 Day
Richard . - CA, USA | July 24, 2019
The crew and the JRig were awesome. So much fun and long lasting memories.
Just wish I had more pictures! Don't use United—>MOAB. They are a disaster. We had serious problems both directions, which involved us missing connections and nearly missing the trip.
Prepare for being "out there". Sun, bugs, and dirt. But it's all worth it!

Related Trips
Utah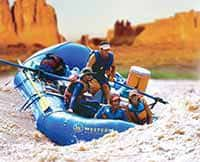 Cataract Canyon 4 Day Trip
Experience 4 Days through the heart of Canyonlands National Park.