Hells Canyon Rafting Trip
Fun Filled – Hells Canyon Rafting
Erin . - MI, USA | August 18, 2019
Recently went on a girls trip through Hells Canyon on the Snake River. The trip was wonderful and we had a fun filled time. I would highly recommend it.

Related Trips
Idaho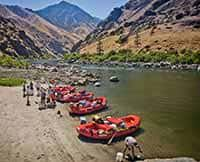 Hells Canyon Rafting Trip
The deepest river gorge in North America and some of the largest whitewater rapids in the Pacific Northwest.