6-7 Day Grand Canyon Vacation
Fun on the River
Sally C. - AZ, United States | May 17, 2021
We had a great trip down the Colorado River with Newty, Lucky, Paco, and Kelty guiding our group. Safety was the first priority, the food was terrific, snacks were offered just when needed, there were good campsites, some good waterfall hikes, and a lot of fun.
My husband and I along with our son, his wife, and their two friends were on the boat with Lucky and Paco each day. Paco did a great job of getting to know everyone on the boat, tell stories about the various sections of the river where interesting events occurred in the past, and host morning stretches. Lucky told some good stories and accommodated all of the group's needs. Newty did an especially great job with the Banana's Foster and ice cream which was a treat and Kelty was always positive. The whole crew worked hard to make the magic happen!
We had our own group of 28 people and everyone got along perfectly. I personally would love to have an extra 1/2 hour of sleep each morning but the coffee was always ready. I took a lot of pictures and have a decent video of Lava Falls along with some other nice photos of our group.
The helicopter ride out of the canyon and the small plane that took us back to Marble Canyon made for a nice ending to our trip. The family-run Bar 10 ranch was a nice touch allowing us to take a hot shower and enjoy the buffet lunch.
A welcome surprise was the cups for nighttime needs so that we did not have to go down to the river in the dark. My husband and I did a similar trip 30 years ago, and I actually brought a collapsible bowl just in case...but I could use that to clean our feet at night rather than for other use!
Overall Western River is a well-run organization and we had a great trip.

Related Trips
Grand Canyon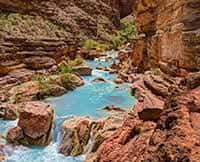 Grand Canyon 6-7 Day Vacation
A unforgettable journey of 188 miles from Lake Powell to Lava Falls.
Grand Canyon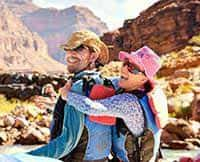 3 Day Grand Canyon River Trip
Raft 100 miles on the Colorado River through Grand Canyon.
Grand Canyon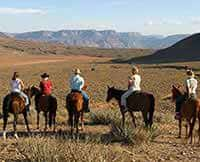 Grand Canyon 4 Day Tour
Combine your Grand Canyon rafting adventure with a day and night at a working cattle ranch.