6-7 Day Grand Canyon Vacation
Rafting the Wild Grand Canyon
Susan B. - Perthshire, United Kingdom | June 7, 2023
ITS A WRAP
187.6 miles on the Colorado River. I would like to thank Western River Expeditions for an absolutely wonderful trip.Wild riding the rapids on the Colorado River, spectacular scenery, interesting history, and amazing people.Thanks to Ronnie and Jeff for steering us so expertly through the waves. Marade and Bill for always being at the awkward points on the trails to help us through.
All the wonderful cooked meals and morning poems/stories to feed us during the day. Also, in the group that made the trip, everyone pitched in with fun and laughter. Would we do it again? Yes definitely!! But it wouldn't be the same with different raft buddies, maybe try somewhere else on the Colorado next time.
May the river continue to run freely.

Related Trips
Grand Canyon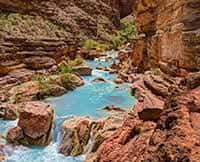 Grand Canyon 6-7 Day Vacation
A unforgettable journey of 188 miles from Lake Powell to Lava Falls.
Grand Canyon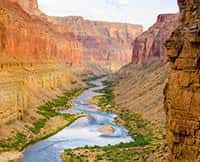 Grand Canyon Rafting Trips
Experience a 3 to 7 day expedition filled with whitewater excitement, spectacular waterfalls waterfalls and starry nights.