Cataract Canyon 2-Day Express
Great Cataract Canyon Rafting!
Mike G. - UT, USA | July 11, 2019
Overall great! Only improvement area was the coffee. ..weaky weaky!...It coud be a bit stronger. That's it! Great food, Great navigators! Never seen so many mtn sheep and rams. What a treat!

Related Trips
Utah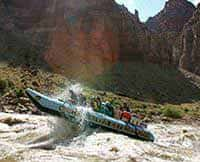 Cataract Canyon Express
Raft the 100 miles of Cataract Canyon in just 2 Days!