3-Day Grand Canyon River Trip
Great 3 Day Rafting Trip With Western River
Tad M. - WI, United States | May 11, 2021
We did the Western River Rafting trip April 27-29, 2021, and had a great time. I planned this trip for myself and 4 children for 2020 but because of COVID, we didn't go until 2021. Western River was very accommodating in letting us delay our trip.
Everything was done very professionally and our guides were great. They went through safety procedures for the rafting and how we could help pack and unpack the raft and set up our tents and cots for the campsites we stopped at. Our guides, Joe, Loren, Dan, and Makai were fun and good cooks. We never were hungry and the food was excellent. One of the nights we slept outside the tent on our cots. It was amazing to sleep under the stars and sometimes we caught a shooting star. On our trip, we had a full moon and the moon was bright! I woke up once during the night and thought it was morning.
The rafting was great. Our guides gave us history along the way on how the Grand Canyon was formed and the different rock formations we passed on the way. The most fun part of the rafting was going through the rapids! There were a number of small ones but we hit some big ones too. When Loren said suck rubber, which means get your head down close to the raft or else the water is going to knock you possibility off the raft, she meant it. Make sure to bring your rain gear because the water is cold. All and all a great trip from the plane ride there, the helicopter ride into the canyon, the camping, and of course the rafting.

Related Trips
Grand Canyon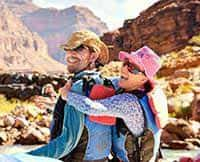 3 Day Grand Canyon River Trip
Raft 100 miles on the Colorado River through Grand Canyon.
Grand Canyon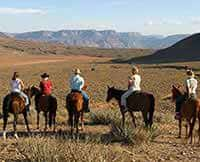 Grand Canyon 4 Day Tour
Combine your Grand Canyon rafting adventure with a day and night at a working cattle ranch.
Grand Canyon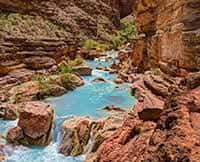 Grand Canyon 6-7 Day Vacation
A unforgettable journey of 188 miles from Lake Powell to Lava Falls.