6-7 Day Grand Canyon Vacation
What I Like About Rafting the Grand Canyon
BRIAN J. - TX, United States | September 7, 2021
My favorite things about Rafting the Grand Canyon
COMARADERIE-Great group of people and the adventure was exceptional. I got to spend more time with old friends and met some wonderful new ones.
Side hikes, especially at Elves Chasm (The patio and the Petroglyphs), Havasu Falls, the little Colorado (too bad it was muddy)
Mind-blowing Geology that changed by the minute.
HERMIT RAPIDS! CRYSTAL RAPIDS! And all the other huge white water that almost kicked me off the raft! The lurch up and smash down of the raft into the rapids and water spray was exhilarating ESPECIALLY at 8AM!
STEPH! I loved our entire crew but Steph was an absolute stand-out – that girl could do anything in the world she puts her mind to #totallyimpressed. Mark and Cass were also top-notch and I would love to do another trip down the Colorado with mark, Cassie, and Steph!
Sleeping under the stars and watching the Milky Way traverse the night sky until the moon rose…
THE FOOD! I gained weight nom nom nom
#westernriverexpeditions J-RIG is the ONLY way to have an adventure-filled 6 day trip on the Colorado River through the Grandest of Grand Canyons!

Related Trips
Grand Canyon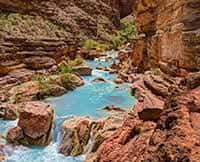 Grand Canyon 6-7 Day Vacation
A unforgettable journey of 188 miles from Lake Powell to Lava Falls.
Grand Canyon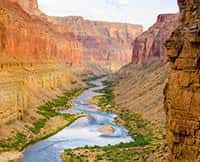 Grand Canyon Rafting Trips
Experience a 3 to 7 day expedition filled with whitewater excitement, spectacular waterfalls waterfalls and starry nights.