Western's ​COVID-19 Mitigation & Operations Plan is in effect.
Great Family Vacation - Beautiful Country, Beautiful People
Jim . - UT, USA | August 22, 2019
The Desolation Canyon Rafting trip was well planned and the guides were excellent. A little more whitewater would have been better but otherwise perfect.
Desolation Canyon 5-Day Trip

Related Trips
Utah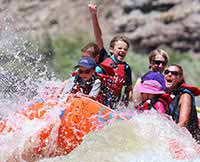 Desolation Canyon
Astounding scenery, over 60 rapids, and great beaches!