Cataract Canyon 4-Day Trip
Great Scenery in - Disappointed in Management.
Nata . - , COL | July 8, 2019
Boat was dirty all the time. I clean it up every day with water.
It is important to plan ahead the places for lunch, in the second day we had lunch in a muddy place with no place dry to sit. It was after a long Hiking.
They put us together to camp during the 4 of July in A very small place, we had to complain as group in order for them to move us to another place.
Poor eco friendly practices.
It is incredible that soap, Clorox and other chemicals are thrown in the river.
A lot of waste of food. They would cook for double the people then throw what was left over (a lot) away

Related Trips
Utah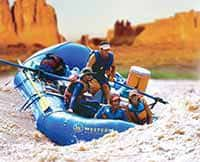 Cataract Canyon 4 Day Trip
Experience 4 Days through the heart of Canyonlands National Park.