Cataract Canyon 4-Day Trip
Great Scenery, Fantastic Crew – Cataract Canyon
John . - UT, USA | August 16, 2019
Rafting through Cataract Canyon was great! Beautiful vistas around every bend. The guides knew their jobs well and were very accommodating. Every meal they made was terrific! Definitely would recommend this trip to anyone.

Related Trips
Utah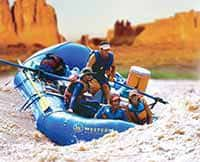 Cataract Canyon 4 Day Trip
Experience 4 Days through the heart of Canyonlands National Park.