Desolation Canyon 5-Day Trip
Great Desolation Canyon Rafting Trip, Even Better Guides.
Chris . - NH, USA | August 20, 2019
This was my second trip with Western River the first was over ten years ago a Grand Canyon trip. This was very scenic and fun. The "duckies" were a great addition to the trip seeing the water was low and the rapids were not as intense as they were in the Grand Canyon. If you have never been on a rafting trip Desolation Canyon is one to start with.
The guides were awesome. I can't say enough good things about Emmy, Lauren, Hank, Sam and Hyrum. They were knowledgeable, friendly and lots of fun. They kept us well fed and I am still hearing the singing of COFFEE in my head.
I would definitely go back again this time maybe hit the Cataract canyon.

Related Trips
Utah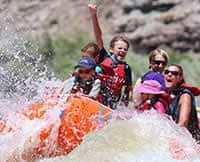 Desolation Canyon
Astounding scenery, over 60 rapids, and great beaches!