6-7 Day Grand Canyon Vacation
Grand Canyon Rafting – Greatest Adventure Our Family Has Ever Been On.
Jimmy . - WA, USA | August 16, 2019
We planned this trip for 2 years. We were given list of items to bring. This list is perfect for your comfort. All items were taken and used. Plan on cold water no matter what the outside temp reads. Do not worry about bringing $150 sandles. $40 or less will suffice.
You will experience breath taking beauty. Rock formations over 2 billion years old. And rapids that are runnable but extremely impressive. You can ride the bull and take enormous waves head on or sit in the princesses chair and have a smooth comfortable ride. These boats are amazing and perfectly suited for this trip. There was an older man in our boat, over 80 years old and even he was riding up front and laughing the whole time.
Take a go pro and chargers as you will probably use 2 full battery charges each and every day. The beauty of this place is breathtaking. The commentary by the crew is awesome and the food is to die for.
We will never top this trip. Many thanks to the crew of our Western River Expeditions. We will never forget you.

Related Trips
Grand Canyon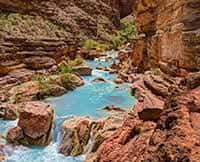 Grand Canyon 6-7 Day Vacation
A unforgettable journey of 188 miles from Lake Powell to Lava Falls.