3-Day Grand Canyon River Trip
Grand Canyon Rafting – Greatest Trip of My Life.
Robert . - FL, USA | September 8, 2019
I'm a cancer patient and I stuck my neck out to get this Grand Canyon Rafting trip off my bucket list. I did and I'm hoping that if I'm still alive I'm going back in 2021. It's amazing how the guides pull it all together when it is time to eat. I want to do the six day to see the Little Colorado but I know it's not doable at this point.

Related Trips
Grand Canyon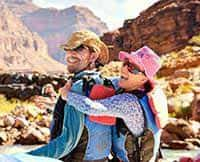 3 Day Grand Canyon River Trip
Raft 100 miles on the Colorado River through Grand Canyon.