6-7 Day Grand Canyon Vacation
Guides, Attention to Details and Special Moments Highlight My 3rd Grand Canyon Trip With Western River Expeditions
Bill . - Colorado, United States | July 1, 2020
Thanks to Western River Expeditions for making our June 2020 raft trip through the Grand Canyon a truly special experience.
This was our family's third trip with Western in 28 years and it was the best yet.
We've always been impressed with our Western River Expeditions river guides. But the guides on this trip stand out above the rest.
We had the pleasure of rafting with Ronnie Haymond and her husband Jeff as our guides and Scott Place and Daniel in the second boat.
Ronnie and the crew were sensitive to COVID-19 fears, authoritative on safety, instructive on the history and geology, great cooks and thoroughly entertaining.
Each day brought fun rapids, challenging hikes up the canyon walls to ancestral Puebloan ruins, or to an amazing waterfall. Each night at camp, we talked about how nothing could ever top that day's adventure. But the next days always did.
Ronnie and crew started each day's rafting with an inspirational reading from the writings of John Wesley Powell or Theodore Roosevelt or other historic environmentalists, sending us off with words about life and nature that echoed over time.
Two moments with our guides that we'll never forget: a special, intimate concert by Scott deep within Blacktail Canyon; approaching Lava Falls as Jeff recited the lyrics from Willie Wonka's Tunnel of Terror scene:
"Yes, the danger must be growing
For the rowers keep on rowing
And they're certainly not showing
Any signs that they are slowing!"
As he finished, we plunged into Lava Falls for the wild climax to our week on the Colorado River.
Each is a memory we'll never forget and that is a gift. Thanks Ronnie, Jeff, Scott, Daniel and Western River Expeditions for our best Grand Canyon trip ever.

Related Trips
Grand Canyon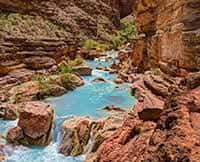 Grand Canyon 6-7 Day Vacation
A unforgettable journey of 188 miles from Lake Powell to Lava Falls.
Grand Canyon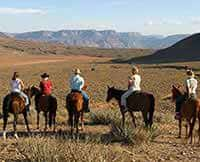 Grand Canyon 4 Day Tour
Combine your Grand Canyon rafting adventure with a day and night at a working cattle ranch.
Grand Canyon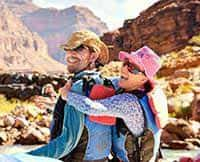 3 Day Grand Canyon River Trip
Raft 100 miles on the Colorado River through Grand Canyon.