6-7 Day Grand Canyon Vacation
Guides Were Phenomenal!
Matt G. - UT, United States | July 15, 2021
Newty, Ronnie, Reese and Enzo were simply phenomenal.
Kept us safe. Enabled the fun - we had a bunch of kids. Super knowledgeable. Excellent cooks. The food they kept bringing out every day just kept surprising me given the fact that we were floating down a river. They Communicated plans and issues clearly. When someone got hurt (kids being kids), they knew exactly what to do. They began working before sunrise and went to bed after sunset. They were sooooo good.
The rafts they used also enabled more of the fun. If you wanted to get wet, or have a better view or step away from the cold water, the design of their rafts were the best on the river. We got to enjoy the scenery without having to row the whole way.
Western River has done a great job of setting up these scenic vacations to succeed.
Really great stuff!

Related Trips
Grand Canyon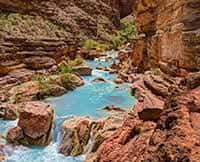 Grand Canyon 6-7 Day Vacation
A unforgettable journey of 188 miles from Lake Powell to Lava Falls.