Cataract Canyon 4-Day Trip
Had a Lot of Fun
Donna . - FL, United States | June 26, 2022
We enjoyed the trip. Truly an adventure due to a hole in one of the rafts, causing changes to the schedule and planned camping site. We made due and enjoyed the people around us. Mostly happy with the vegan accommodations, but would have hoped for more variety. The guides were great and most of them made an effort to interact with everyone. Getting off the river was an adventure all its own due to low water and a crumbling bank.

Related Trips
Utah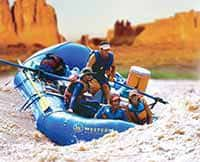 Cataract Canyon 4 Day Trip
Experience 4 Days through the heart of Canyonlands National Park.