6-7 Day Grand Canyon Vacation
Grand Canyon Was Just Spectacular!!
Eric . - MA, USA | October 3, 2019
So this urban cowboy had never been camping before and go figure, had never been near whitewater. I wasn't real worried (maybe a little) but generally had no idea what to expect. All that said, seven days on the Colorado River with both new friends and dear old friends were magnificent. RD, Alora, Makai, and Willy were guides of the highest order. They took us everywhere, kept us safe, answered all our crazy questions, and cooked extraordinary meals every day. I cannot say enough good things about them. Thank you Western River and thank you to my fellow travelers who created a great family of strangers for a magical week. And thank you to the Grand Canyon for maintaining your good looks.

Related Trips
Grand Canyon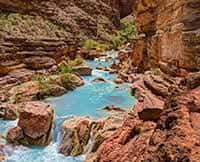 Grand Canyon 6-7 Day Vacation
A unforgettable journey of 188 miles from Lake Powell to Lava Falls.